In, cool and elegant, the Milano outdoor lounge set is the perfect essential addition to any Australian deck or patio. Give your backyard a modern makeover and make it the place to be for every occasion. Containing one 3 seater sofa and one 2 seater sofa, which can accommodate easily 5 people in a really comfortable way. The Milano has one extended side table which are perfect to put your glass of wine or beer or snacks after a long day at work, or with your books. It also comes with an independent coffee table which is really practical and classy at the same time. With its sleek outline and contemporary style, combining Charcoal aluminium, dark grey cushion and faux timber element, the Milano set is certainly an eye candy.
Comfortable
The reinforced aluminium frame gives the setting strong and steady structure. Filled with high density foam, the back and seat cushions provide the type of support and flexibility only premium products possess. Given its stability and reliability, the setting is incredibly dark weight.
Stylish
This set is the perfect combination of sleek lines and satisfying sense of softness. The modern islandic primitive design brings a pleasant feeling at first sight. Completed with Charcoal powder coated aluminium frame and special medium dark grey yarn dyed cushion fabric, this set is an ideal choice to add style and harmony in your outdoor space.
Quality
The powder coated aluminium frame is rust free and weather resistant. The cushions are stuffed with high density foam. Cushion covers are water resistant. There are straps on the long sofa cushion to stabilize it on the chair.
Convenience
All pieces in the Milano set are fully assembled and ready to use. There is no installation needed.
Features
Perfect for indoor and outdoor use
Powder coated Charcoal weather resistant aluminium frame for ultimate durability and strength whilst being light weight
Sleek aluminium is quick to clean for easy maintenance
With extended side table for beverages, snacks, books and others
Water resistant and UV resistant yarn dyed fabric cushion cover
Cushion covers are removable via zip for easy hand washing if required
L-shaped sofa to utilise dead corners
Removable and washable cushion cover
No assembly required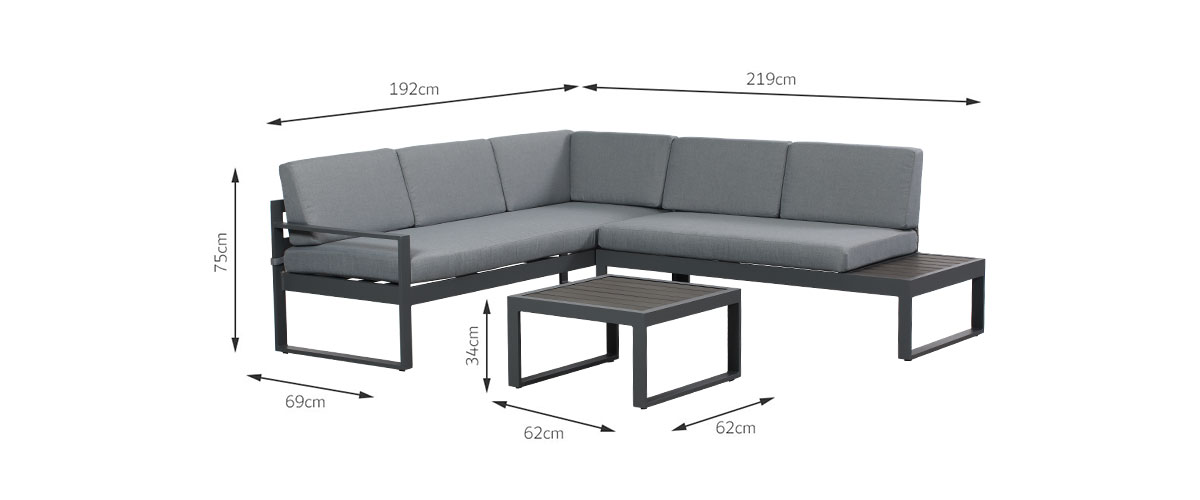 SPECIFICATIONS:
Material: Aluminium frame;
Colour:Charcoal frame with dark grey cushion;
Indoor/ outdoor use;
Assembly: No Assembly Required;
Warranty: 3 Years Structural Warranty / 12 Months Parts/ RTB Warranty;
INCLUDES:
1 x Armless Sofa: 150cm x 69cm x 62cm (L x W x H);
1 x 3 Seater Corner Sofa: 192cm x 69cm x 62cm (L x W x H);
1 x Coffee Table: 62cm x 62cm x 34.5cm (L x W x H);
DIMENSIONS:
Packaging - 197cm(L) x 77cm(W) x 69cm(H) Net Weight: 34.22Kg;
Gross Weight: 43.60Kg