With its simple and elegant design, the Clayton dining set is a timeless product that is perfectly fitting either inside or outside. The table top is made up of streamlined aluminium strips, which is easy to clean. It can accommodate up to 6 people. It contains a large spacious dining table and six dining chairs. The combination of white aluminium, light grey wicker and high-density foam filled cushions makes a modern and elegant set. Crispy outlines and clean colour powder coated aluminium gives a unique framework like no other.
Comfortable
The reinforced aluminium frame gives the setting strong and steady structure. Filled with high density foam, the back and seat cushions provide the type of support and flexibility only premium products possess. Given its stability and reliability, the setting is incredibly light weight.
Stylish
This set is the perfect combination of sleek lines and satisfying sense of softness. The modern islandic primitive design brings a pleasant feeling at first sight. Completed with white powder coated aluminium frame and special medium grey yarn dyed cushion fabric, this set is an ideal choice to add style and harmony in your outdoor space.
Quality
The powder coated aluminium frame is rust free and weather resistant. The cushions are stuffed with high density foam. Cushion covers are water resistant. There are straps on the long sofa cushion to stabilize it on the chair.
Features:
Frames are constructed of power coat non-rust Aluminium for durability
Lightweight construction makes moving about or rearranging furniture easy
Sleek aluminium is quick to clean for easy maintenance
UV resistant wicker
Natural wicker combined with grey cushion and white aluminium ideal in any outdoor area.
Water resistant and UV resistant yarn dyed fabric cushion cover
Chairs offer armrests for a relaxed sitting position
Combined of wicker and aluminium elements makes it more eye catching to your garden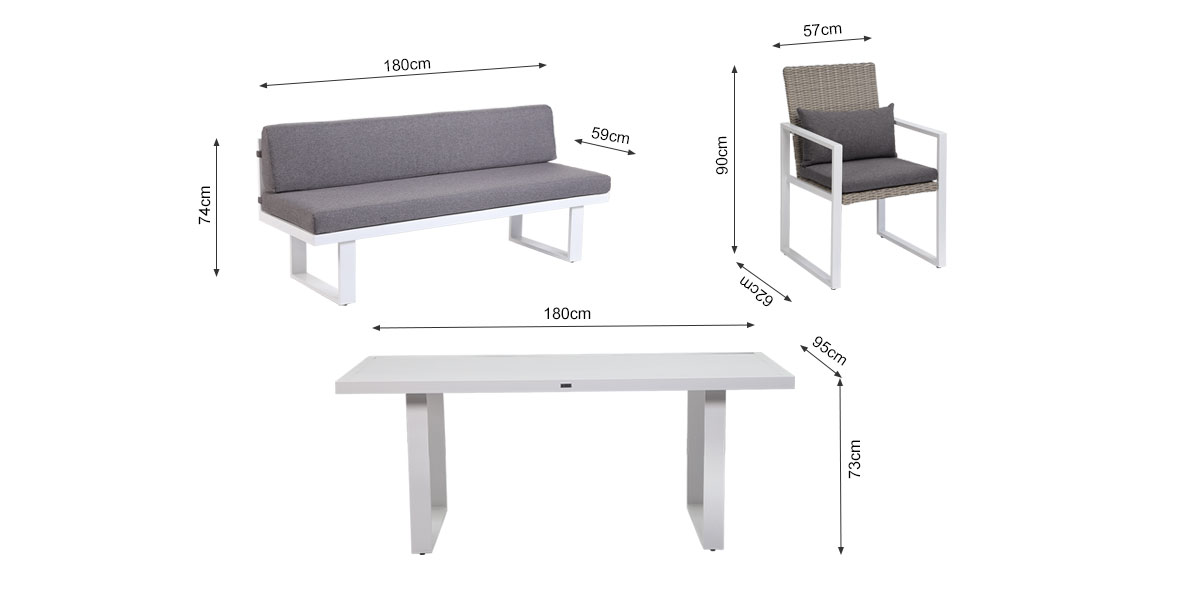 SPECIFICATIONS:
Material: Aluminium frame;
Wicker Colour: Flaxen
Colour: White frame with dark grey cushion;
Indoor/ outdoor use;
Assembly: Assembly Required;
Warranty: 3 Years Structural Warranty / 12 Months Parts/ RTB Warranty;
INCLUDES:
1 x Dining Table: 180cm x 95cm x 73cm (L x W x H);
6 x Single Dining Chair: 57.5cm x 57.5cm x 90cm (L x W x H);
DIMENSIONS:
Packaging (1) - 68cm(L) x 58cm(W) x 58cm(H) Weight: 15.41Kg;
Packaging (2) - 68cm(L) x 58cm(W) x 58cm(H) Weight: 15.41Kg;
Packaging (3) - 68cm(L) x 58cm(W) x 58cm(H) Weight: 15.41Kg;
Packaging (4) - 183cm(L) x 14cm(W) x 98cm(H) Weight: 24.24Kg;
Weight: G.W. 70.47Kg