The Cappellini collection uses synthetic outdoor wicker, powder coated aluminium frame and high-density foam sofa cushions. This flexible 5-piece sofa set offers a combination of seating choices to suit your living space. A perfect minimal statement for outdoors and indoor use, giving the perfect inside to outside flow.
The lightweight aluminum frame keeps the structure strong, yet light enough for you to move around. This set uses dark grey wicker and matching light grey seat and back cushion, giving out a harmonious yet refreshing look.
The high-density foam filled cushions are soft, supportive and comfortable. Their sleek shapes are a great complement to the clean-cut design of the wicker sofas. They give your back strong support, provide comfortability to the seats and keep you warm in cold weathers.
The set consists of 3 wicker sofas, an ottoman and a coffee table. Individual pieces are light and lovely, adding a chic sense to your space. The pieces can be combined into a 3-seater sofa, ideal for family and friends gathering. The 2-seater ottoman is light and flexible, adding more variety to the seating choices this set can offer. The small wicker coffee table is the perfect component to be put together with this set, giving out sophistication and practicality.
It comes complete with 2 corner sofa with back cushions and seat cushions, 1 middle sofa with back cushions and seat cushions and 1 ottoman and Coffee table.
All cushions are all included, Including seat and back cushions
Powder coated aluminum frame for durability and it will not rust or lose its shape
Lightweight and tough frame
Hand Woven PE rattan
Grey cushion on all seating which can be removed and washed
Hard-wearing, easy to clean and durable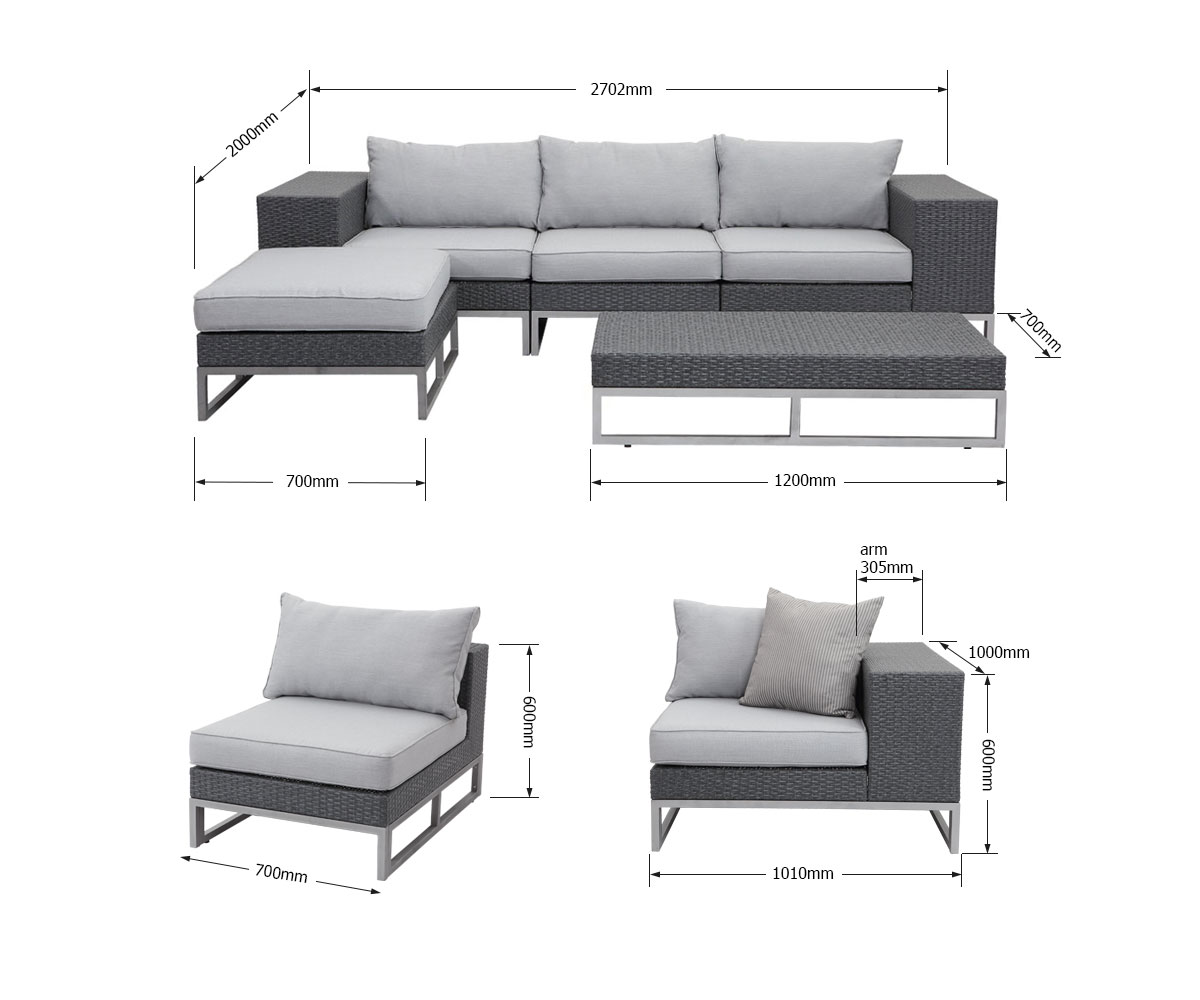 SPECIFICATIONS:
Material: PE Wicker, High Density Foam Cushion Inserts, Powder coated aluminium frame;
Wicker Colour: Dark Grey;
Cushion Colour: Light Grey;
Cushion Thickness: 10cm;
Indoor/ outdoor use;
Assembly: Assembly Required;
Certification: SGS Tested;
Warranty: 3 Years Structural Warranty / 12 Months Parts/ RTB;
INCLUDES:
2 x Corner Sofa: 100cm x 100cm x 60cm (L x W x H);
1 x Middle Sofa: 100cm x 70cm x 61cm (L x W x H);
1 x Ottoman: 100 x 70 x 28cm (L x W x H);
1 x Coffee Table: 120cm x 70cm x 28cm (L x W x H);
DIMENSIONS:
Packaging - (1)- 105cm(L) x 27cm(W) x 102cm(H) Weight: 32Kg;
Packaging - (2)- 125cm(L) x 72cm(W) x 63cm(H) Weight: 35Kg;
Packaging - (3)- 123cm(L) x 72cm(W) x 66cm(H) Weight: 35Kg;
Weight: G.W. 102Kg